Kitchen Fixtures in Denver
Make your kitchen unique!
The kitchen is the heart of every home, so it is understandable that you want your kitchen to reflect your personality and style. When you visit our showroom (Appointments Recommended), you can select materials for your dream kitchen from our extensive selection. We carry many different types of kitchen items, including:
Kitchen Sinks
Prep Sinks
Bar Sinks
Utility Sinks
Sink Faucets
Accessories
Water Filtration Systems
Instant Hot Water Systems
You do not have to be restricted by the same faucets, sinks and fixtures that are popular in your neighbors' homes. Tony Capra's Bath House (Appointments Recommended) allows you to create a one-of-a-kind kitchen. With one of our knowledgeable representatives as your guide, we can provide you with the necessary information regarding the features and functions of each product so you can choose the perfect finishing touches for your kitchen. All of our products at Tony Capra's Bath House (Appointments Recommended) are high-quality, yet completely affordable. If you would like to learn more about our kitchen fixtures, dial (303) 799-0544 and speak to one of our representatives!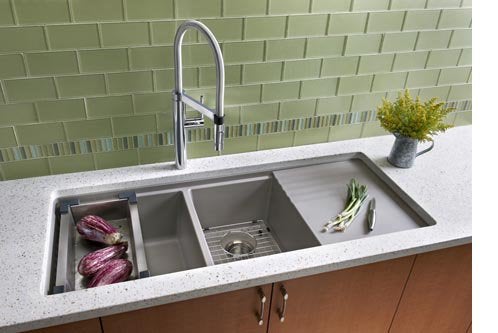 Hours
Monday – Friday: 8am to 5pm (Appointments Recommended)
Closed Saturday
Closed Sunday